NEW! 5 Alarm Combo
This is the latest addition to our Combo Bouncer rentals; the 5 Alarm Combo Bouncer with splash poll gives you the maximum fun with the best value. This exciting Fire Truck themed bouncer features a water slide and large bounce area. There is also a basketball hoop inside for making those amazing jumpshots! Rent it today at Greysons!
Shop Now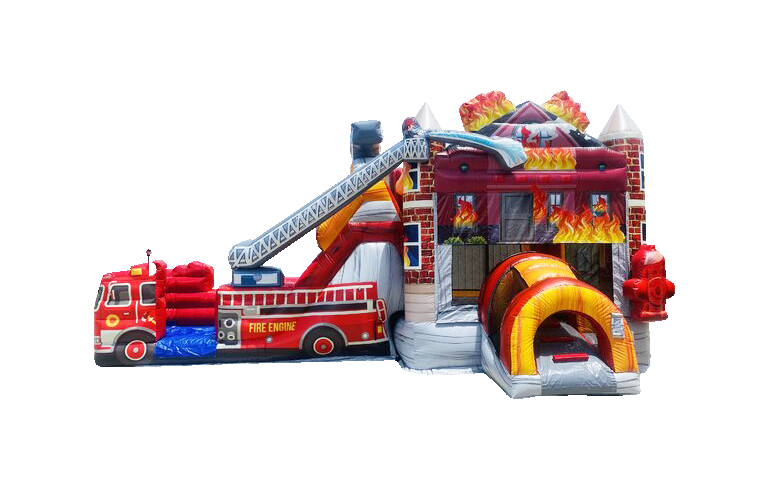 The Best Bounce House Rentals in Baton Rouge & Beyond!
For the best bounce house rentals Baton Rouge has to offer, you've come to the right spot. Greysons Events and Entertainment is a premier event rentals provider in the greater Baton Rouge, LA area. We offer high-quality party rentals that guarantee limitless entertainment during your birthday parties, corporate events, and family reunions. We believe bouncers are a kids' party inflatable thing, and we are ready to provide a variety of them for their excitement. Whether you're hosting a backyard party in your neighborhood, a field day at your school, or even a special event at your church, we have the experience and equipment to create memories that will last a lifetime.
Greyson's Events & Entertainment is a family owned Inflatable company. We have inflatables of all types, including: water slides, bounce houses, combos, interactives, and games. We also have concessions like popcorn, and cotton candy machines. Mechanical bull rentals, bungee trampoline rentals, rock wall rentals, and much more. Party accessories like garbage cans, tables and chairs, generators, etc. Give us a call or reserve on-line and we promise a great all around experience.
"Information about our rentals". The rental period is 6 hours. We allow the customer to pick their drop off and pick up times between 6 hour with drop offs starting at 8am and our last pickup ending at 10pm. Last pickup time is subject to change with daylight savings time starting and ending. If you want to keep after dark we charge a fee of 50 dollars to keep it until the next morning. Any rental that is overnight will be picked up the following day between 8:00am and 11:00am depending on deliveries that morning. Personal checks are not accepted at this time. We are required to collect tax on rentals unless you are tax exempt. If so, we will get all paper work filled out before the delivery. We require a 25% deposit when booking. Please give us a call if you have any more questions, we look forward to working with you and may you have a blessed day!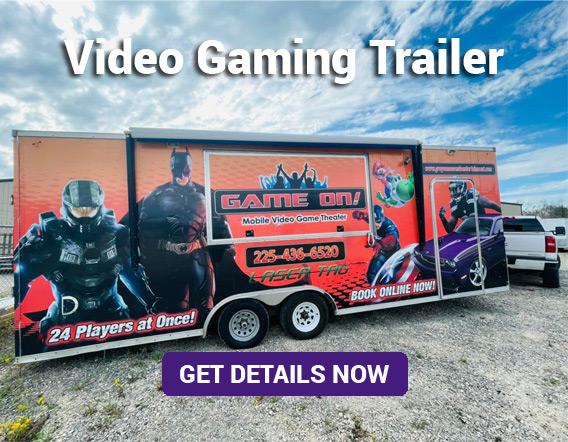 When it comes to fun, Greyson's Delivers!
Our team of party rental suppliers will deliver and set up the bounce houses, including other inflatable rentals like the dry slides, obstacle courses, water slides, and combos, at no extra cost to you. We pride ourselves on doing things differently.
As a family-run business, we treat your party and guests like our family. Having organized several family reunions and events, we know your party is one of life's greatest moments, so we'll help you plan and ensure the inflatable party rentals are delivered on time.
Our team is reliable and professional and will ensure your party runs according to the plan. Do not hesitate to contact us for excellent service and the latest selections of inflatables powered by Greysons Events and Entertainment.
#1 Baton Rouge Party Rentals
While a dime a dozen companies are in the outdoor entertainment space, we are proud to be family favorites to provide the best event rentals Baton Rouge, LA. Our obsession with customer satisfaction and strict adherence to the safety and cleanliness of our inflatable slides and bounce houses puts us at the top spot. If you love working with the best of the best party rentals supply company, Greysons Events and Entertainment is a great choice. With our large selection of bounce house rentals, we guarantee only top-notch bouncers that kids and other guests will enjoy.
Control with cursor
Click to explore
Control with touch
Tap to explore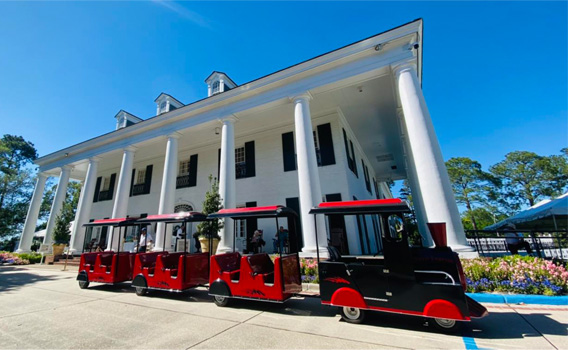 Choose Your Date
Book Your Inflatable Rentals in Baton Rouge!
We have provided bounce houses, water slides, dry slides, and obstacle courses to hundreds of parties and events in Baton Rouge. Whether in back yards, local parks, or schools, we delivered on time and ensured the customer was satisfied with our service.
All you have to do is visit our website and check the availability of our inflatable rentals by filling out the event date. You will be directed to a page with a list of the available party rentals. Remember to keep your lines open as our customer service team will call you to confirm your quote. You can also contact us at (225)-436-6520 if you have any further inquiries.
Our delivery areas include: Evangeline, West Feliciana, Acadia, Vermilion, Iberville, St.Martin. Jefferson Davie, St.Landry, St.Mary, Iberia, West Baton Rouge and East Baton Rouge.