For the Best Mechanical Bull Baton Rouge LA Has to Offer, Choose Greyson's Events and Entertainment
If you're looking for the #1 mechanical bull Baton Rouge LA residents, business owners, and administrators choose for all occasions, Greyson's Events and Entertainment is the best option! We make it as simple as possible for our customers to book a mechanical bull for a carnival, school field day, or other festivities. Whether you're planning a neighborhood block party, bachelor party, trade fair, or any other exciting event, we'll be thrilled to deliver an exciting mechanical ride to help create an unforgettable party.

We have no doubt that your guests will be lining up to take a shot at the mechanical bull Baton Rouge LA kids and adults love. Add some friendly competition and endless amounts of laughter to any event. We're fully licensed and insured and we value each of our customers' safety just as much as they value having a good time. Our selections are cleaned, sanitized, and inspected for safety after every rental. You'll have the peace of mind that comes with renting party supplies from a reputable and dependable company that residents rely on for all their events.

We are dedicated to offering the most entertaining mechanical bull Baton Rouge LA has to offer to all of our clients in Baton Rouge, Louisiana, and the neighboring communities of East Baton Rouge Parish. Choose our team for top-notch customer service, exciting inflatable options, and guaranteed on-time delivery. Get in touch with us by giving us a call at (225) 436-6520 or use our convenient online booking tool to reserve a rental today with a few easy clicks!
Add Excitement to Any Event with a Mechanical Bull Rental Baton Rouge LA Loves
The team at Greyson's Events and Entertainment can help you add excitement to any event with a mechanical bull rental Baton Rouge LA loves! We have amazing deals on mechanical rides for any size guest list and we promise that your guests will have a great time, whether you're entertaining kids, adults, or a combination. We offer a variety of mechanical rides that take any event to the next level. There's something for every occasion, from trackless trains and mobile gaming trailers to bungee trampolines and mechanical bulls.

We can set up an inviting and eye-catching mechanical bull rental Baton Rouge LA can't get enough at your business, event center, auditorium, or local gymnasium near you. Kids and adults often enjoy our mechanical bull rides at corporate events, carnivals, trade fairs, grand openings, church parties, and school field days. We also deliver mechanical bulls to our customers' yards, the East Baton Rouge Parish School District, and local parks, including City-Brooks Community Park and the Forest Community Park.

We supply the best inflatable party rentals for every occasion whether you're shopping for mechanical rides, inflatable bounces, slides, or interactive game rentals. With our high-quality party rental selections, you'll find all you need to organize an unforgettable bachelor party, school field day, or church carnival! Contact our friendly and experienced team at (225) 436-6520 to book the best party entertainment in Baton Rouge.

Inflatable Mechanical Bull Rental Baton Rouge LA Businesses, Schools, and Individuals Use Year-Round
The best part about choosing the inflatable mechanical bull rental Baton Rouge LA businesses, schools, and individuals use year-round is never having to worry about the safety of your guests. Our inflatable mechanical bull comes with padded walls and floors that guarantee safety for all ages. We provide thrilling entertainment for kids and adults and we promise that your guests will get back up beaming when they fall off the spinning bull. Our staff members are well-trained with experience using our equipment and elevating any event to the next level!

Get in touch with our experienced team to book an inflatable mechanical bull Baton Rouge loves beginning at $750 and see who can last those elusive eight seconds on a bucking bull! We'll make sure that your next bar and bat mitzvah, carnival, bachelor or bachelorette party, college event, or corporate team-building day is a one-of-a-kind experience with our licensed, insured, and high-quality mechanical bull. The ride measures 16' long by 16' wide by 10' high in actual size and can be set up outdoors or indoors if you have plenty of space. Book yours today!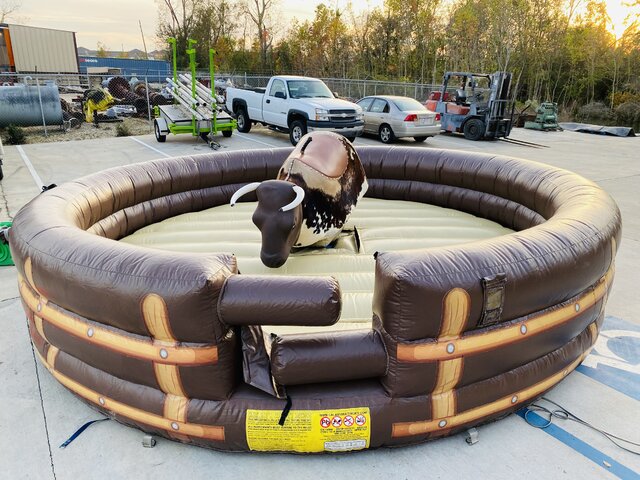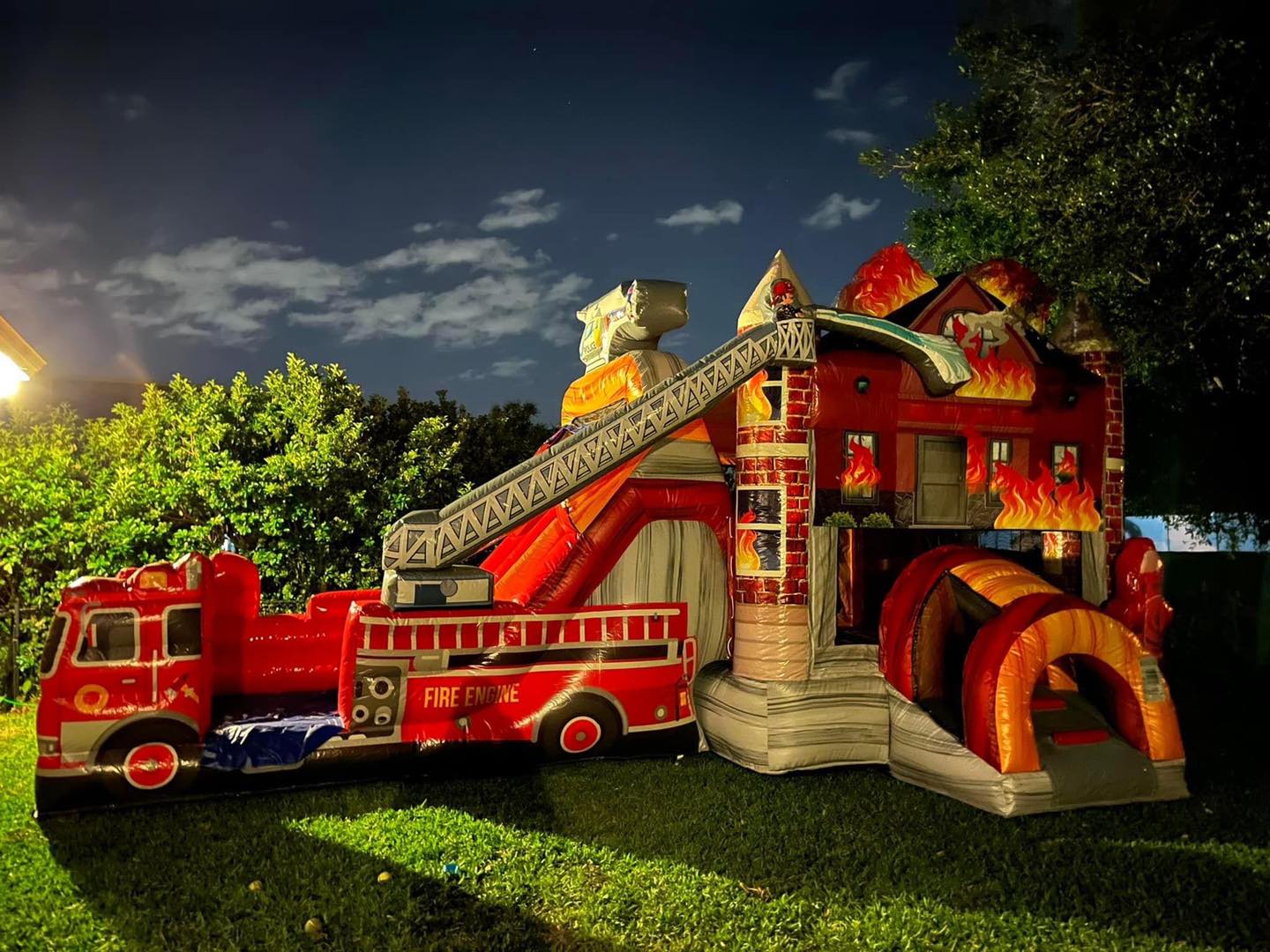 Why You Should Choose Us for Your Baton Rouge Mechanical Bull Rental
We're the top choice for a Baton Rouge mechanical bull rental because we make the party planning process as stress-free and enjoyable as possible. We've delivered countless hours of fun to hundreds of businesses, churches, gymnasiums, schools, and our customers' backyards for a range of exciting events with our inflatables and equipment. We guarantee that our mechanical rides will be the highlight of any occasion.

We offer cost-effective options for those searching for mechanical bull rental prices near me Baton Rouge LA can count on. As a family-operated, locally-owned party rental company, we work hard to provide the best selections at reasonable rates. We know how to bring fun to parties and ensure that our clients have a memorable and festive time without any safety concerns. We're licensed and insured to deliver high-quality equipment to the venue of your choice, whether your party is at a local park, school campus, backyard, or business. We carry the right equipment to deliver the fun to any location in Baton Rouge and surrounding areas. Browse through the many positive reviews left by our delighted clients and learn more about how we live up to our stellar reputation as the best bounce house and inflatable party rental provider in East Baton Rouge Parish.
Our Baton Rouge mechanical bull rental options are supplied by industry-leading manufacturers and we can guarantee that they are made from lead-free commercial-grade vinyl that is fire-resistant and durable. The bull is surrounded by an inflatable landing pad, so there's no doubt the rider will remain safe while having a blast! Contact our team and let us help you make your next event hassle-free by providing entertainment with our meticulously clean, sanitized, and enjoyable rides. We'll deliver the inflatable, set it up, and ensure that everything is working perfectly to entertain your guest list for hours on end. We'll also promptly pick up our equipment at the end of the event. When you partner with our team of party experts, you can rest assured that all of the little details that make events special and memorable will be handled with care.
How to Book a Mechanical Bull Party Rental Baton Rouge LA Can Trust
At Greyson's Events and Entertainment, we make it super simple to book a mechanical bull party rental Baton Rouge LA can trust with a few easy clicks. You can reserve a ride and everything else you need to elevate your next event 24/7 using our online booking tool. Our fully interactive website works just like any other retail platform! Simply browse our website on your smartphone, tablet, or PC to select the item and click "Add to Cart" to get the reservation started. It's that simple!

When you're ready to book a mechanical bull party rental Baton Rouge LA can't get enough of through our website, follow the steps below:

1. Browse the available mechanical rides.
2. Click the orange "Add to Cart" button.
3. Choose the date, start time, and end time of your event.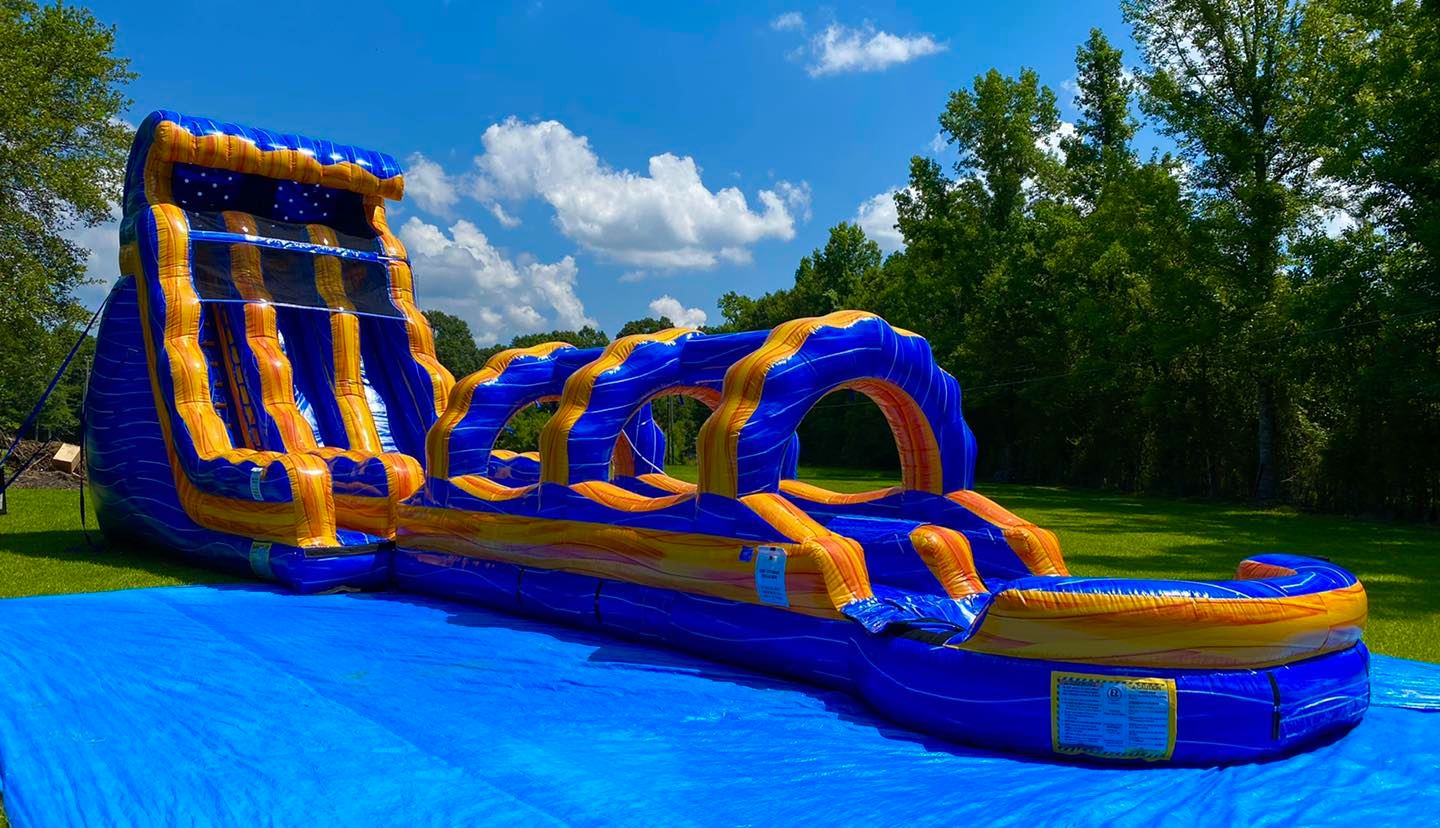 4. Enter your billing, contact, and event information.
5. Sign the digital contract.
6. Pay the deposit required for the rental using any major credit card.

That's really all there is to it! We'll follow up with a confirmation email and digital copy of your receipt and one of our team members will be in touch leading up to the event to confirm a delivery window that works for you. Call us if you need to add any other party rentals or modify details of your mechanical rental in the days leading up to your event. Please let our team know if you have any specific delivery requirements so that we can work out the details. We strive to ensure that your event is successful no matter the size. Any questions? Get in touch with our party professionals by calling us at (225) 436-6520.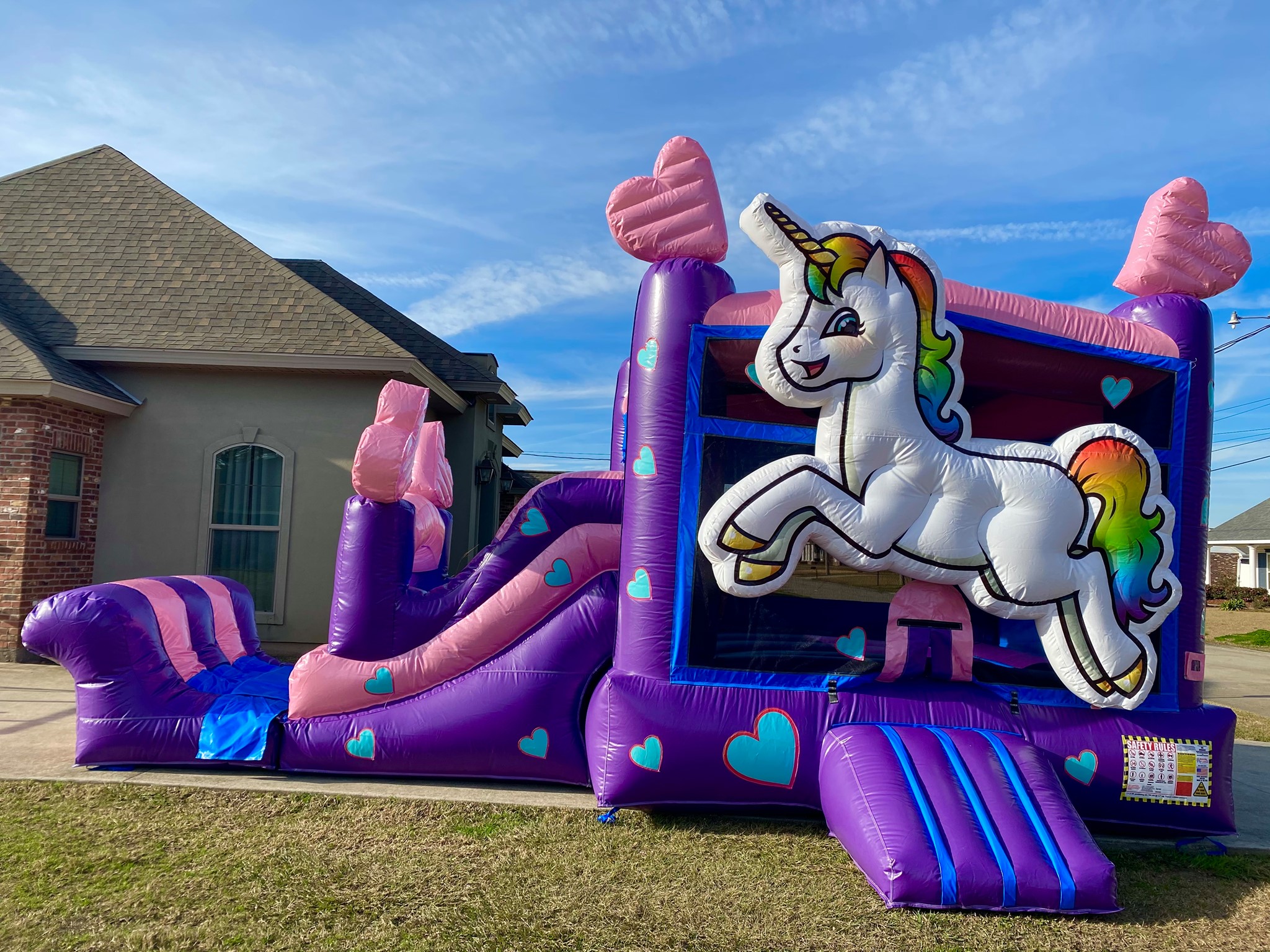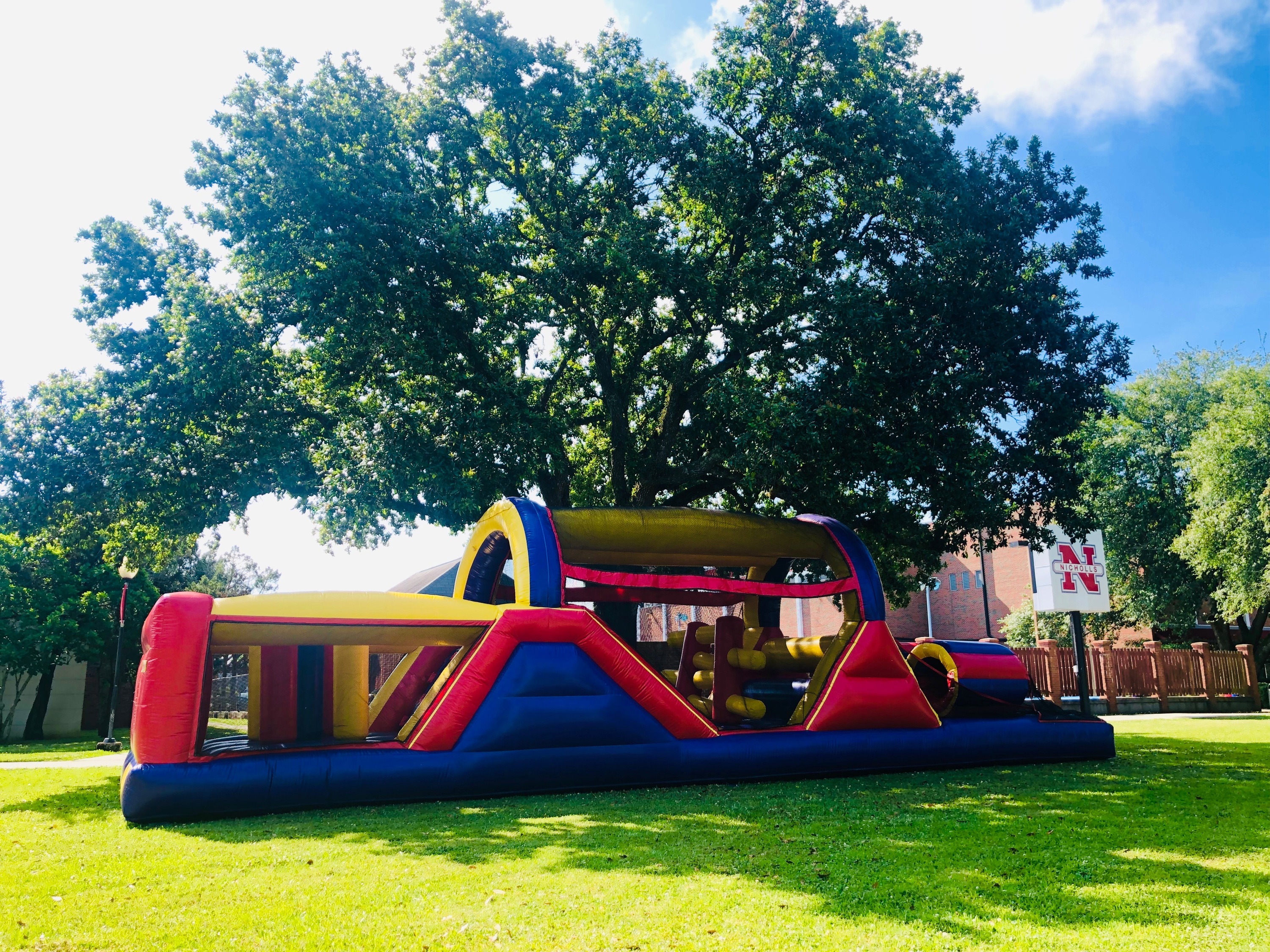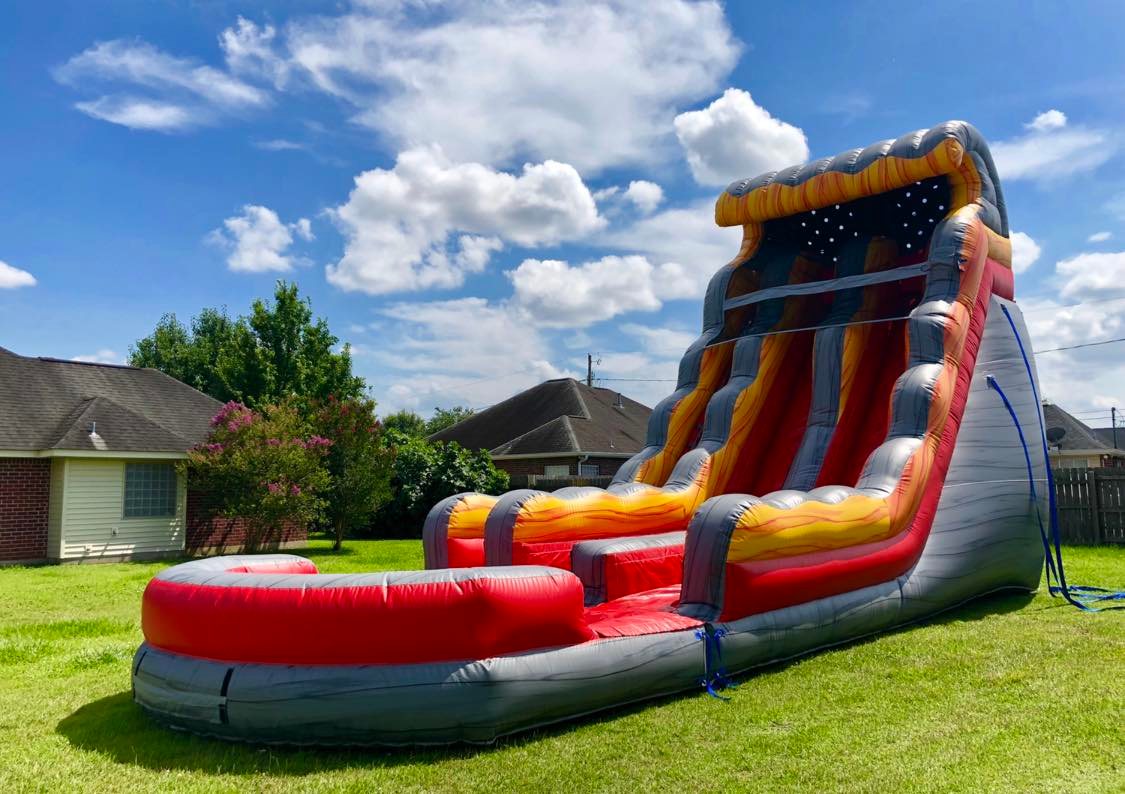 How Much is a Mechanical Bull Rental Baton Rouge LA Enjoys and Other FAQs
If you're wondering how much is a mechanical bull rental Baton Rouge LA residents enjoy year-round, we've compiled a helpful list of frequently asked questions to provide more information. Take a look and reach out to our team with any additional questions.

We're here to make renting enjoyable and entertaining rides that families enjoy all year long as simple and hassle-free as we can. We also provide bounce houses, bounce house and slide combos, water slides, toddler inflatables, and other attractions for every occasion!
Q.
How much is a mechanical bull rental?
A.
We keep our mechanical bull rental cost Baton Rouge LA can depend on low and affordable for all our clients. You can hire a mechanical bull at $750 for a standard two-hour rental. You can purchase extra rent time at an additional $150 per hour, from 3 to 23 hours if planning a longer event. The prices on our website are inclusive of delivery, set up, and pick up for locations within our delivery area, but they are exclusive of taxes. We'll let you know if there are any delivery charges for your location prior to the event. Proceed to the checkout to see the final price with tax included. If you've been wondering how much is a mechanical bull rental Baton Rouge LA can trust, you're in the right place!

Q.
Can you set up a mechanical bull in the park?
A.
Absolutely. We frequently set our mechanical bull rentals and rides at local parks. Please note that parks do not have electricity and you'll need to include a portable generator as an add-on to your rental, which we carry at affordable rates. Parks also operate on a first-come, first-served basis, so remember to reserve your space early and find out the park's rental rules for inflatable mechanical rides.

Q.
Can I cancel my rental due to bad weather?
A.
We prioritize the safety of our clients and we want you to enjoy the mechanical bull or our other inflatable rentals safely. In case of bad weather, we'll provide a rain check valid for up to one year from the original event date. Please get in touch with us to learn more about our cancellation policy.

Delivering Fun With a Mechanical Bull Rental Near Me Baton Rouge LA Appreciates
We're experts at delivering fun to parties with a mechanical bull rental near me Baton Rouge LA can't get enough of! There's a good chance you've seen Greyson's Events and Entertainment trucks on the road carrying the best inflatables and other party equipment in the Baton Rouge area. We're the party rental company supplying the best selection of rentals to our customers' homes, businesses, churches, schools, and other venues.

We deliver mechanical rides and inflatables to City-Brooks Community Park, Perkins Road Community Park, Forest Community Park, and other local parks when our customers want to host fun events outdoors.
Be sure to review all the requirements necessary when planning to hold your event in any of the local parks including renting event furniture or generators to make sure things go off without a hitch.

We also provide mechanical rides for all grade levels at the East Baton Rouge Parish School District campuses. Our rentals are exciting for kids of all ages, from daycares to college and every grade in between. Plan an upcoming community event, school field day, or college welcome week with the added entertainment of our high-quality, super fun party equipment.

Our customers in East Baton Rouge Parish depend on our mechanical bull rental near me Baton Rouge LA families, schools, and clubs trust. We also deliver bounce houses to all nearby communities including Gonzales, Prairieville, Plaquemine, and Denham Springs. We provide delivery to the 70714, 70801, 70802, 70803, 70805, 70806, 70807, 70808, 70809, 70810, 70811, 70812, 70814, 70815, 70816, 70817, 70819, and 70820 zip codes. If you don't see your city or zip code listed, give us a call to see if we can make arrangements to help provide the fun at your special event.

NOTE: Extra fees may vary depending on how far you are outside our service area.